Longer Walks 2020
Hi All
I hope you have all survived the past few months safe and reasonably sane.
I now need offers asap to put together a programme for October, November and December.
Looking forward to seeing everybody with their boots on soon.
Regards
John
RAMBLES
Various days, up to 9 miles, usually packed lunch required.
Meet at 9.45 at Start Location unless stated otherwise.
Due to COVID19 car sharing is not recommended and restrictions/cancellations may occur as government guidelines change.  We will be trying to follow the Ramblers Association suggestions. We will therefore not be meeting at Wildwood but will meet at the start location at 9.45 ready to start walking at 10.00.
Date               Length               Place                              Leaders
Tue 27th October, 8 miles Beckbury and Badger Dingle, Tim and Lynn 07860 454359. On street parking in Beckbury by the village church. WV6 7JS.
Tue 10th November, 8 miles, Local walk via Jacobs Ladder to Cannock Chase. Meryl 604374, Park at Wildwood Car Park 9.30.
Tue 17th November, 8 miles, Penkridge, Marian and Chris 661566 01889 583363, Hayling Dean car park Penkridge 9.45.
Other dates TBA      
Tues 8th Dec, Half day, Maybe XMAS LUNCH Book the date – details in the next Newsletter, John & Margaret (251926)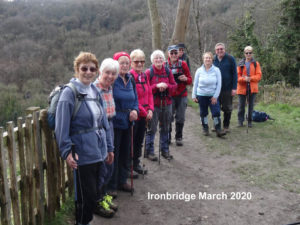 Frogall Wharf Consall and the Devils Staircase April 2019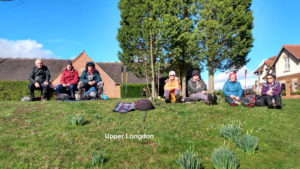 Click the links below to see archive photos from the past.