Longer Walks
Hi All
I hope you have all survived the past few months safe and reasonably sane.
Start to put away the Jigsaws and get the boots dusted!  The restart walking programme is below.
Many thanks to all our leaders for giving walks for this programme.For the duration of this programme (or until the rules allow otherwise) we shall continue to meet in the car park at the specified time to start the walk.
It will be necessary to observe the COVID social distancing rules, especially in areaswith a high public presence, to prevent adverse comments from people who are feeling vulnerable.
Looking forward to walking again
John
RAMBLES
Various days, up to 9 miles, usually packed lunch required.
Meet at 9.30 at Start Location unless stated otherwise.
Tues 10th Aug, 8 miles, Wombourne Station, Seisdon and Trysull, Meryl (604374), Womborne Station 10.00
Tues 17th Aug
, 8 miles, Cannock Chase, Coppice Hill,
John F (256423),
Coppice Hill Car Park 9.30
Tues 24th Aug
, 8 miles, Heather Hike and Longdon Green,
Marian & Chris
(661566, 01889583363),
10:00 at Longdon Green
Tues 31st Aug
, 8½ miles, Coven, Tim (07860454359), 
Coven playing field car park School Lane 10.00
Tues 14th Sept, 8 miles, Wetwood, Fairoak and Bishops Wood, Celia & Rob (840283) Wetwood Village Hall car park 10.00
Tues 21st Sept, 8 miles, Ellastone, Ordley Valley and the Limestone Way. (may be mud), John & Margaret (251926) 10:00 Ellastone Village Hall, Carpark
Tues 28th Sept, 8 miles, Barleston and towards Trentham. Parkland, fields, woods and maybe mud, David & Vivien (253862), 10:00 Barleston Green Car Park
Due to COVID19 car sharing is not recommended and restrictions/cancellations may occur as government guidelines change.  We will be trying to follow the Ramblers Association suggestions. We will therefore not be meeting at Wildwood but will meet at the start location at the time specified ready to start walking.
Other dates TBA     
Rawnsley Hills Cannock Chase July 2021
Wheaton Aston Walk June 2021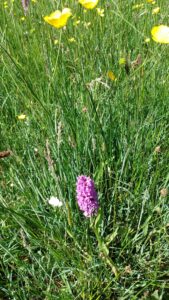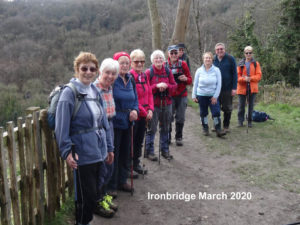 Frogall Wharf Consall and the Devils Staircase April 2019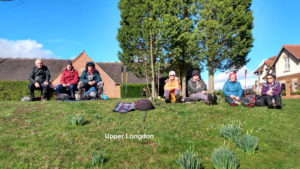 Click the links below to see archive photos from the past.