This is the home page of the Line Dancing Regular Weekly Activity
Venue: Walton Village Hall
Day: Wednesday
Time: 2.00pm-3.30pm (with a break for tea)
Fee: £2.50 per session
For more details, please contact Group Leader, Cynthia Brough: 01785 614674
Here is another dance activity that might be of interest to members:
Scottish Country Dancing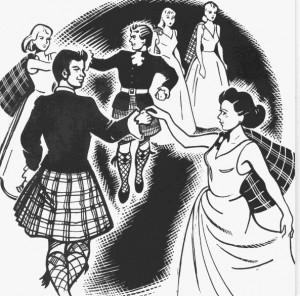 Scottish Country Dancing is a form of social dancing in couples, usually in square sets or long sets, and it should not be confused with Highland Dancing, which is solo dancing over swords, etc. The traditional Scottish country dances were collected and published by the Royal Scottish Country Dance Society, but nowadays many new dances have been written, and the total number of dances probably exceeds 10,000 in number. Conventionally the dances employ a series of figures, such as Right Hands Across, Poussette, Allemande, Promenade, set, cast, etc. (there is some French terminology, arising from the exile of Bonnie Prince Charlie in the French royal circles). In Stafford the local Scottish country dance society is the Stafford & District Caledonian Society. Anybody is welcome to attend 1900 – 2215 on Wednesdays from September to May in the North End Community Centre, Holmcroft Road, Stafford. The Wednesday meetings contain three sections (Beginners' Classes 1900 – 2000, taught by a Royal Scottish Country Dance Society certificated teacher: complete beginners are very welcome – bring non-slip shoes such as trainers, trousers acceptable for ladies; Standard (easier) social dances 2000 – 2100, followed by a tea/coffee break; and Harder Dances 2120 – 2215). There is a more formal side to the society, such as the annual President's Invitation Evening with recorded music; the annual Ball with a live Scottish Dance Band, both held at Stafford Manor High School (formerly Stafford Sports College, and Risingbrook High School); and the annual Burns Night ritual dinner, piping the haggis, Rabbie Burns songs and poetry, followed by dancing. Kilts are worn only at these formal dances or for demonstrations. We have about 10 Scottish ex-patriots, but the majority of us are welcomed Sassenachs – indeed, there are more Scottish country dance societies in England than there are in Scotland. It is not necessary to bring partners (newcomers are obvious, and you will be amazed how you are approached without previous introduction and asked for a dance). Academic studies have proved that Scottish Country Dancing is an excellent form of physical and mental activity which promotes happiness and well-being.
Why not give it a try? Several SWPAC members take part in the Folk Dance Group Thursday evenings held in Walton Village Hall. Some are also members of the Stafford & District Caledonian Society – see website https://www.areyoudancing.com/dance-directory/2630/
or just turn up on a Wednesday evening at the North End Community Centre, Holmcroft Road, Stafford.