SWPAC Shorter Walks Schedule to November 2019
Currently two Mondays morning per month (subject to change, according to the requirements of members). Please meet at Wildwood for 0930 departure; take boots, hats, scarves, gloves and waterproofs as appropriate for the weather conditions. Take a flask of tea or coffee if you wish. Mud and stiles are to be expected.
Dates, lengths, descriptions, venues, and leaders:
Monday 20st Jan, Rugeley,  4.5 Miles, Lanes and field paths Jane D 07771 791339
Monday 3rd Feb, Marquis Drive, 4.0 miles, field paths and tracks no stiles,  Carol P 602304
Monday 17th Feb, Loynton Moss, Snowdrop walk, 4.5 miles, tracks and paths, John T 01785 609018
Monday 2nd March, Stafford Castle, 4 miles, Field tracks No styles, Tim G 07860 454359
Monday 16th March, Haughton, 4 miles, Paths and lanes, Margaret & Jennie 661129
Monday 6th April, Hednesford Hills, 4 miles, Field paths Some hills but Few Styles, Norman H 257278
Monday 20th April, Cannock Chase, 4.5 miles, mostly gravel tracks Managable hills, Meryl S 604374
Monday 4th May, Blithfield Bluebell walk, 4 miles, Field and forest paths No hills or styles, Diane & Graham 661686
Monday 18th May, Wolesley Bridge, 4 miles, field and forest tracks, Jane D and Maureen 07771 791339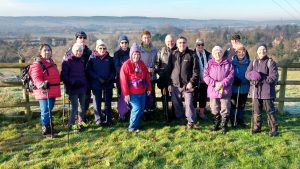 Short walk group photo Rugeley January 2020, Tim Gray center right.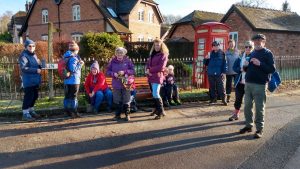 Rugeley walk lead by Maureen and Jane (Center)
3 photos of the Fairoak walk 18.09.17 (Photos by John Tourt)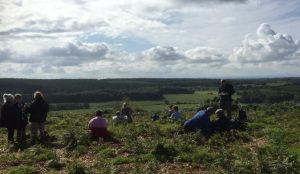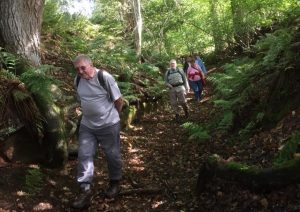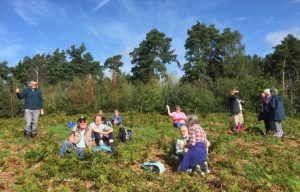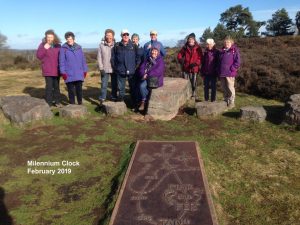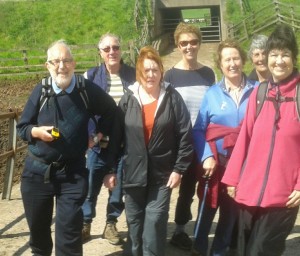 Members of the Shorter Walks Group on the Teddesley, Dunston and Acton Trussell walk 11.05.15 (Photo by Pat Wilkinson)