Longer Walks 
Various days, up to 9 miles, usually packed lunch required. Meet at 9.30 at wildwood unless stated otherwise.
2019
Tues 22nd Jan, 8½ miles, Kingswood, Codsall and Wrottesley Park, David & Vivien
Tues 29th Jan, 8 miles Abbots Bromley, Bill & Diane.
Tues 12th Feb, 8 miles Weston, Gayton and Sandon, John H
Tues 19th Feb, 8 Miles, Wetwood and Bishops Wood, John & Margaret W
Tues 26th Feb, 8 miles Loynton Moss,  John F
Group Leaders: John & Margaret Ward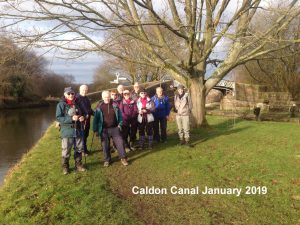 Click the links below to see archive photos from the past.