Longer Walks 2019
Various days, up to 9 miles, usually packed lunch required. Meet at 9.30 at Wildwood unless stated otherwise.
Tues 30th July, 8 miles, Iron Bridge area, Tim (01902 791325)Meet 9.15
Tues 13th Aug, 8 miles, Oakamoor, Celia & Rob (840283) Meet 9.15
Tues 20th Aug, The Roaches and Lud's Church, John H (614654)Meet 9.15
Tues 27th Aug, (Holiday Tues), 8 miles Ellastone and the Limestone Way,
John & Margaret (251926) Meet 9.15
Tues 10th Sept, Marchington Woodlands, 7 miles, David & Vivian 253862
Tue 17th Sept, Coton-in-the-Elms, 8 miles, John F 256623 9.15
Tue 24th Sept, Cheddleton and Coombs Valley, 7.5 miles, John 251962 Meet 9.15
Tue 8th October, Bridgenorth and Astley Abbots, 8.5 miles, Ian 661085 Meet 9.15
Tue 15th October, Sandon and Gayton, 8 miles, Tim G 07860454359
Tue 22nd Oct, Hansacre, 7.5 miles, Norman 257278
Tue 29th Oct, Himley and Baggeridge, 8 miles, Meryl 604374 Meet 9.15
Tue 12th Nov, Worfield, 8 miles, Celia & Rob 840283
Tue 19th Nov, Fairoak and Brindley, 7 miles, Marian and Chris 661566
Tue 26th Nov, TBA
Tue 10th Dec XMAS LUNCH WALK TBA.
Frogall Wharf Consall and the Devils Staircase April 2019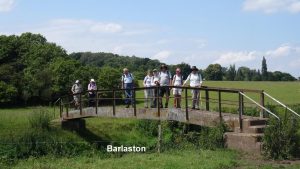 Click the links below to see archive photos from the past.