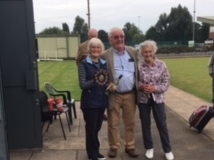 Twenty Six Phoenix Bowlers took part in a Drawn Doubles Competition on Monday 6th.Sept. and the concluding Semi & Final on Monday 13th.Sept.. 2021 at Riverway Bowling Green.
The Winners were:
Pam Ewan and Barbara Jackson – Trophy presented by Frank James (photo attached)
and the Runners up:
Ian Pattyson and Martin Smith.
It was a well attended competition and a closely contested final
Thanks to all who supported this event a fitting end to the Bowling Season during these difficult times
We look forward to another Bowling Season in 2022, when hopefully there will be full fixtures for that Season.
Best wishes
Anne Mace
Phoenix Match Secretary